0
RATED OUTSTANDING BY BSO
0
UNIFIED CHAMPION SCHOOLS
0
VIBRANT INTERNATIONAL COMMUNITY
0
HIGH PERFORMANCE LEARNING SCHOOL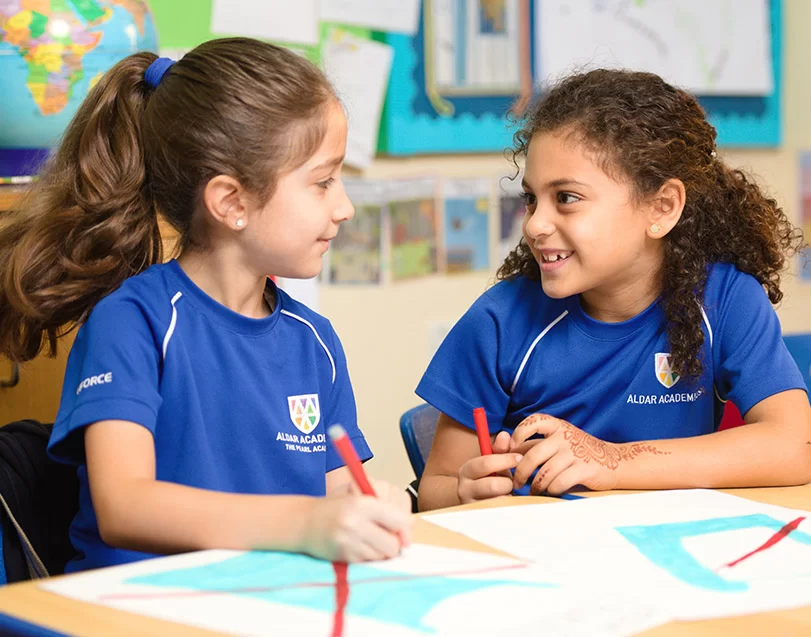 Pearl British Academy is a diverse international school in the heart of the city.
Pearl British Academy was proud to be rated 'Outstanding' in all six performance standards in their latest ADEK inspection. Pearl British Academy is also rated 'Outstanding' by BSO. Pearl British Academy staff are a highly qualified, professional and dedicated team, they embed current educational best international practice, staff are regularly hosting Parent Workshop within the school. Our Senior Leadership Team are British Schools of the Middle East (BSME) inspectors and support international school development.
Why choose Pearl British Academy?
Inquiry-Based Learning: Maker Spaces
Nursery, FS2 and Year 1
Continuous provision; indoor/outdoor play mirrored
The teacher is the facilitator and coach
Year 2 to Year 6
Lab-based learning experiences to develop specified expertise- e.g. coding
Areas are flexible learning spaces which can adapt to different requirements as per the children's pursuit of learning- these can be opened up for the whole year group to work in or divided into bayed areas for fluid learning.
Self-reflective analysis is woven into the learning to enable analysis of decisions, research effectiveness and how each individual is operating / functioning as a learning in order to develop learning efficiency
The teacher is the facilitator and coach
Seamless integration of technology to facilitate learning (Apple Distinguished School status)
Developing young leaders
Broaden leadership experience to grow young leaders
Nursery- Year 1
Developing independence, responsibility, teamwork, communication, organisational skills and confidence in a variety of situations
Developing an understanding of community through their project work
Year 2- Year 6
Debating on world issues including UN – local, National and International involvement
Leadership opportunities enabling interaction with students, parents, SGG and the wider community through key experiences to gain an insight into leading and managing as part of a variety of leadership roles- Pearl Parliament, Cultural Ambassadors, Eco-Ambassadors etc.
Leading of and involvement in community projects – Inquiry-Base Learning; real –life learning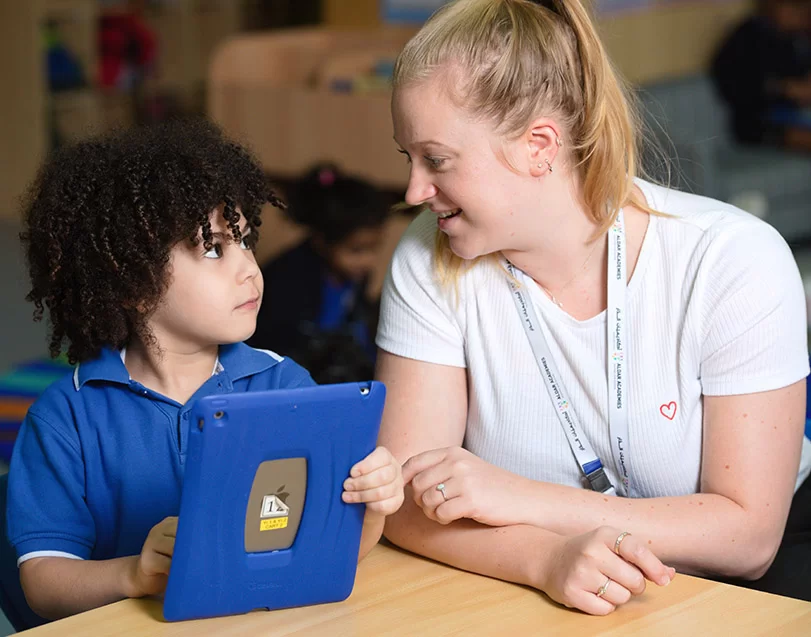 THE ENGLISH NATIONAL CURRICULUM
The English National Curriculum is among the most in-demand study options in the world, respected for its high academic standards and focus on developing confidence and individual thinking. The learning pathway is delivered through enquiry or 'project-based learning', a method of teaching which inspires a love of learning and deepens a student's knowledge by challenging them to complete real-world tasks. In this way, the English National Curriculum is considered to be one of the most engaging of all.
The National Curriculum for England defines two 'key stages'; Key Stage 1 (Years 1 and 2) and Key Stage 2 (Years 3 to 6). The curriculum builds on the Early Years Foundation Stage curriculum offered in Foundation Stage 1 and 2 (3 to 5 year old). The National Curriculum Core subjects are: English, Mathematics and Science. Foundation subjects are Design and Technology; Information and Communication Technology; History; Geography; Modern Foreign Languages (Year 3 upwards); Music; Art and Design; Physical Education and Personal, Health and Social Development. Due to Ministry of Education regulations in the United Arab Emirates, Religious Education is not taught. Arabic, Islamic Studies and Social Studies are taught as per UAE Ministry of Education guidelines.
STATE OF THE ART FACILITIES
We believe that imagination, creativity and big dreams can change our world! We are focused on improvement and solutions. We empower our staff and students to be innovative, unconstrained. We celebrate thinkers and doers. We celebrate new ideas and nurture them.
As well as supporting educational growth, the wellbeing of our students is a core part of the care we provide. Our Academy is staffed by a full-time school nurse who provides health related services for all students throughout the day.
Ensuring the safety, welfare and security of our students is a key priority across Aldar Academies. We know that, in order to learn, students must feel safe and secure. Educational research has demonstrated the importance of positive and affirmative relationships as a significant factor in determining successful learners and effective schools.
Our sports facilities include a multi-purpose sports hall, a swimming pool, netball court, Astroturf and play areas with equipment to support and enhance children's physical and social development.